How do I wrap food in beeswax wraps?
The beeswax wrap is the practical, natural and reusable packaging for your food. It replaces aluminum & cling film, plastic & paper packaging as well as bulky lunch boxes – in the refrigerator or freezer, at home or on the go!
It is water-repellent, flexible and adheres to itself and other surfaces through the warmth of your hands. Cover vessels and plates with the wrap, cling to cut fruit and vegetables, wrap salads and herbs, wrap cheese, breads and slices.
It is only unsuitable for fish or raw meat!
How can I clean the beeswax wrap?
You can remove light soiling by holding the beeswax wrap under running, cold water. If it's very dirty, it's best to use ours natural household soap to help:
If you want to use a different detergent, always only use cold water and make sure that the detergent is alcohol-free, as alcohol would dissolve the coating. Please do not wring or crumple when washing and drying!
Before using it again, let it air-dry or gently wipe it with a towel.

If necessary, the beeswax wrap can be disinfected with vinegar.
Lather the wet beeswax wrap gently.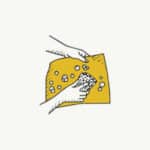 Use a clean sponge and softly rub over the stains to create a lather.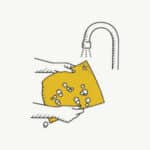 Then rinse the wrap as usual under cold water.
How do I best use the household soap?
Lightly rub the dampened beeswax wrap with the soap. The soap is very economical, so it does not need large quantities to achieve excellent cleaning. If you want to lather up the soap on the beeswax wrap, you can gently walk over it with a clean sponge. Then rinse the wrap as usual under cold water.
To clean other objects, you can simply rub some soap on your sponge and then wash the object with it.
In our Blog You can find out more about soaps and what makes our household soap so special.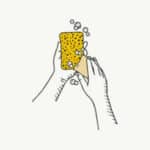 1. Rub the soap on a damp sponge or dishcloth.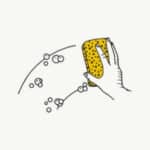 2. Then the surface, such as. B. your kitchen table to soap with it. (Not suitable for oiled wooden surfaces)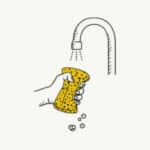 3. Wash the sponge under warm water and, if necessary, wipe or wash the surface with clear water.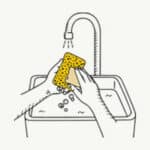 For washing up z. B. crockery, cutlery, saucepans or glasses, you can also prepare a detergent solution in your sink by using the solid soap with a sponge
foams in warm water.
How can I store my beeswax wraps?
Our grass paper packaging is ideal for this! You can put it up or hang it up and fold your beeswax back into the packaging. However, over time, all of your beeswax wraps are unlikely to fit in the box.
In this case, you could put them in a drawer, easily folded or rolled, or in a glass or mug or something similar. put.

Here you can find out more about Grass paper .
Which size is best for what?
Beeswax wrap XS (14 × 12 cm)
For cut onions, lemons, cucumbers, (wine) bottles, glasses …
Our specialist for 1kg bread, large heads of lettuce, for covering large bowls, baking trays, cake platters …
Beeswax wrap desired size
Yes gladly! Just write us one Mail with your desired size and color.