Our handmade, cold-boiled household soap is of course free of colourings, fragrances and preservatives and consists of natural raw materials from controlled organic cultivation. We have developed our household soap especially for beeswax towels. In addition to organic olive oil, it contains the proven raw materials of our beeswax wraps, namely organic beeswax, pine resin and organic coconut oil. It is also suitable as a solid dish soap for cleaning and maintaining other surfaces made of stainless steel, wood and ceramics. And with a balanced mixture of different oils and an overfatting of 10% (after a 6-week maturing period), it is also particularly gentle on the skin and nourishing!
Ingredients : Olea Europaea Fruit Oil *, Cocos Nucifera Oil *, Aqua, Sodium Hydroxide, Cera alba *, Colophonium
* kbA – from controlled organic cultivation
Application : Rub the dampened beeswax wrap lightly with the household soap. Our household soap is very economical, so it doesn't take large amounts to achieve excellent cleaning. If you want to lather the household soap on the beeswax wrap, you can gently go over it with a clean sponge or cloth. Then rinse the wrap as usual under cold water. To clean other objects, you can simply rub some soap on your sponge and then wash the object with it.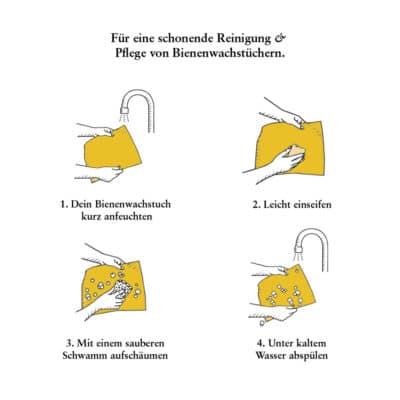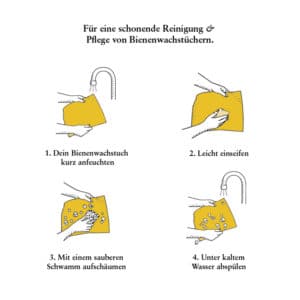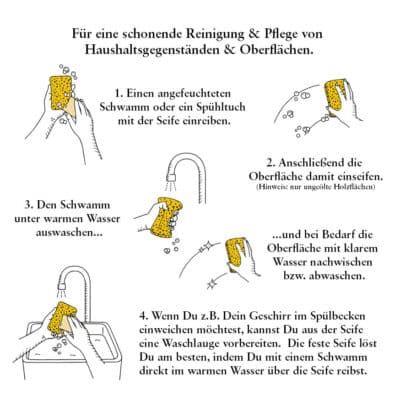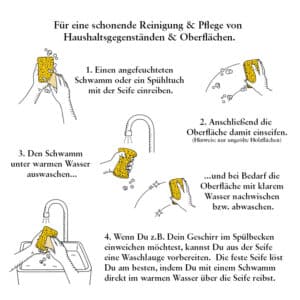 You can find more information and tips in our blog " Cleaning and caring for beeswax wraps "!
---
Product benefits at a glance:
Natural household soap (50g)
Cold-boiled & handmade
Made from high-quality organic raw materials
Organic Olive Oil, Organic Beeswax, Pine Resin & Organic Coconut Oil
Free from colorants, fragrances and preservatives
Especially good for gently cleaning beeswax towels
Ideal as dish soap for your plastic-free household
High overfatting after a long maturing period
Good for the skin, very economical, cleansing & caring
Scope of delivery: A solid household soap (50g)
---
Our household soap is very economical, so it doesn't take large amounts to achieve excellent cleaning. And if they are allowed to dry properly, you will enjoy them for a very long time! You should therefore always place your household soap on a good soap dish. A good soap dish or a good soap holder is designed in such a way that the soaps can dry quickly and well without swimming in their own water. The smallest possible contact surface is essential!