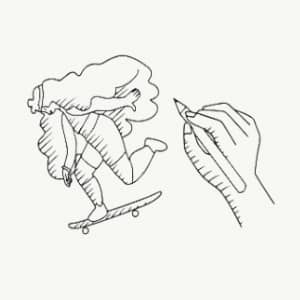 Extraordinary motifs
by artists
You can find extraordinary motifs on our charity beeswax cloths. We want to introduce you to great artists!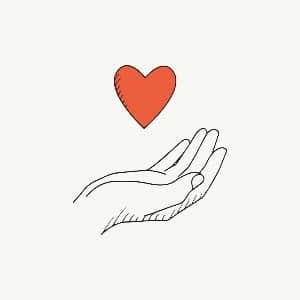 Charity Edition
Fundraiser
For every charity beeswax sold, we donate € 2 to a charitable project. The project is personally selected by the artist.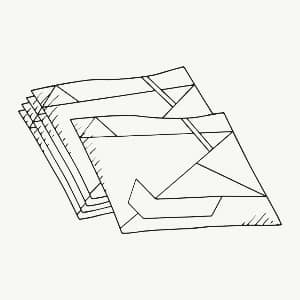 Limited charity
Beeswax wraps
A charity edition is limited to 500 beeswax cloths. This brings together a total donation of € 1,000 per edition.
#1 MUAH!
Dinosaurs! Eyes!! Monster!!! Cats? MUAH! MUAH connects all this and much more with screen printing, graphics & illustration. Don't worry, the whole thing is not as serious as it reads. It's all much worse: Because where the cute dances with your nightmares, laser beams shoot out of your eyes. There the fire blazes from the throat and many small monsters tumble out of the shadows and hug you until you can no longer breathe. Are you scared already?
In addition to her monster farm, MUAH (alias Anett Bauer) studied artist, organizer of urban art markets, art director of the Sound of Bronkow music festival, member of the Distilled & Bottled collective and is also extremely active.
www.muahstuff.de
www.linktr.ee/muahstuff
We donate 2 € per beeswax wrap "MUAH!" To the alliance "Seebrücke"
The international Seebrücke movement shows solidarity with all people who are on the run. The pier calls on German and European politicians to immediately establish safe escape routes and a humane reception of refugees and to decriminalize sea rescue. You are calling for an open Europe, safe havens and cities based on solidarity instead of closed borders.
#2 Rainbow Posters
Falk Schwalbe and Hannes Hirche are the artist duo "Rainbow Posters". The two graphic designers live and work in Leipzig and discovered their preference for the ideal combination of screen printing, posters and music during their studies: the gig poster. You are involved in the scene in a variety of ways, are co-founders of the Busy Hands collective, organize gig poster events yourself and take part in the "Flatstock" trade fair every year.
The duo works strictly analog. In addition to water-based paints and recycled papers, the artists are also interested in producing their own paints with organic pigments.
www.rainbow-posters.com
www.rainbowposters.bigcartel.com
We donate € 2 per beeswax wrap "RAINBOW" to the Association for the Promotion of the Wangeliner Garden e. V.
With the voluntary help of numerous people and donations, the association supports the preservation of the Wangeliner Garden as a place of biological diversity, culture, togetherness and learning. They have created an ecological, cultural and social oasis and are committed to maintaining and developing it. They see themselves as encouragers for sustainable projects in their region and beyond. They see social changes as an opportunity and offer solutions themselves. With their environmental education work, the core concern of the Wangeliner Garden, they make a contribution to our earth and show their visitors: Inside something worth emulating for biological diversity, self-sufficiency, sustainable village development and of course for the preservation of our soil.
www.wangeliner-garten.de
www.wangeliner-garten.de/foerderverein
#3 Dana Lungmuss
"Hi, I'm Dana, an illustrator and graphic designer. My origins are in the Erzgebirge. That's why after 9 years in Berlin, I was drawn back to my home. Now I call Leipzig my home and couldn't be happier.
Because in my heart I am very close to nature and love the simple things in life. When I'm not swinging the iPinsel, you can see me speeding through Leipzig on my bike. But secretly I dream of a creative life in the country. Let's see where life takes me. "
We donate € 2 per beeswax wrap "HELLO DANANE" to the association "Bienenweide e.V.", which transforms rural areas such as arable land and fallow land into blooming landscapes.
In addition to the bee pastures and information events, the association also offers various workshops. Here you will learn how to build a suitable nesting facility for insects and wild bees and which regional seed mixtures ensure a complete supply of nectar and pollen.
We would like to encourage you to become active for the pollinators by making your garden, balcony, street or community bee-friendly: Sustainability can be so easy!