We are literally experiencing a flood of plastic in Corona times.
Disposable cups, disposable tableware, and fruit and vegetables packed in plastic are booming again.
In the Corona period, we ask ourselves: Can we still shop plastic-free?
Can the consumption of plastic be reduced in everyday life despite increased hygiene measures?
Yes! And it's not that difficult at all.
We can all limit our daily plastic consumption.
We would like to show you this using the example of Karl's everyday life
Karl ist 28 Jahre alt, lebt in einer Single-Wohnung und arbeitet als Lehrer an einem Gymnasium.
6:30 a.m. – Karl's alarm clock rings. He gets up and takes a shower. Already here he notices the many shower baths, foam baths and shampoos wrapped in plastic. He thinks: I don't need that many different shower rooms. I will once Natural soap try in one piece. Then he brushes his teeth with a plastic-free toothbrush that he recently received from a colleague. Even toothpaste is now available in the form of toothpaste tablets in a glass – Karl found out from her how to bypass the plastic tube.
7:30 a.m. – Since the schools are reopening and there are currently still high school exams, he only goes to school with a cloth bag on his bike. On the way there, he stops at a bakery and buys a sandwich for the break. The bun is put in a paper bag and handed to him over the counter. He left his lunch box at home because the bakery does not currently accept containers that have been brought with him for reasons of hygiene. Is this really necessary or just less cumbersome? Karl asks himself and resolves to research it later.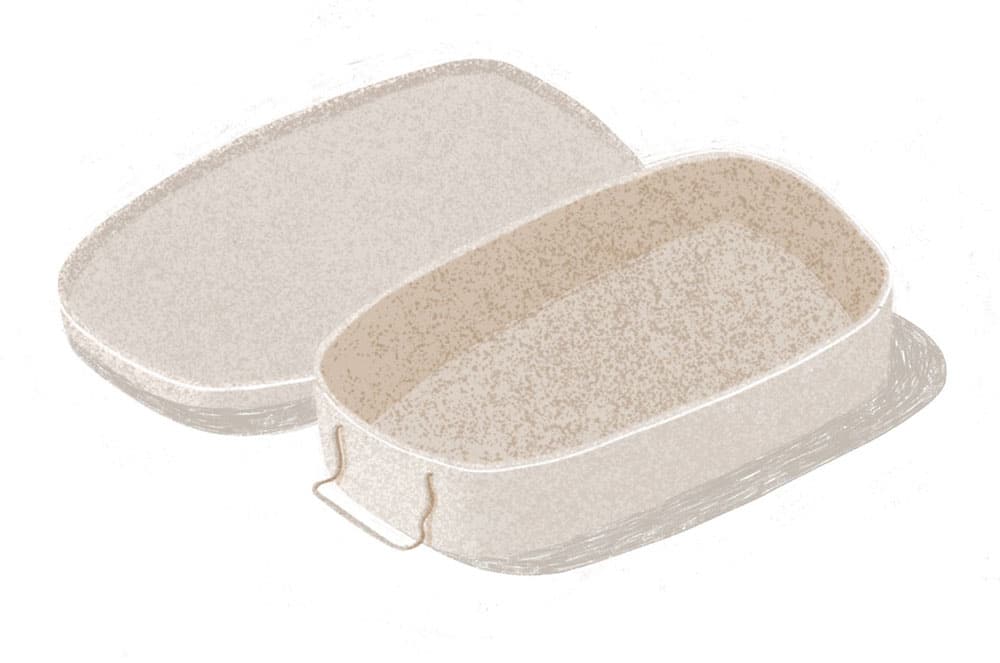 11:00 a.m. – Karl gets a coffee in the school cafeteria. Otherwise he used his own plastic-free thermo mug for this. Unfortunately, this is often not allowed during Corona times because many companies insist that direct contact with guests and with the mug that you have brought yourself should be avoided. Anyway, thinks Karl, fortunately the cafeteria has not switched to plastic cups, but still uses the school's crockery.
12:30 p.m. – school yard supervisor – Karl watches two girls who are eating their sandwiches. One of the two has wrapped her bread in beeswax wraps. Karl thinks: But someone made an effort and saved a lot of plastic at the same time! Karl wonders whether these oilcloths are also hygienic. "Beeswax wraps can be cleaned with soap and are also naturally antibacterial."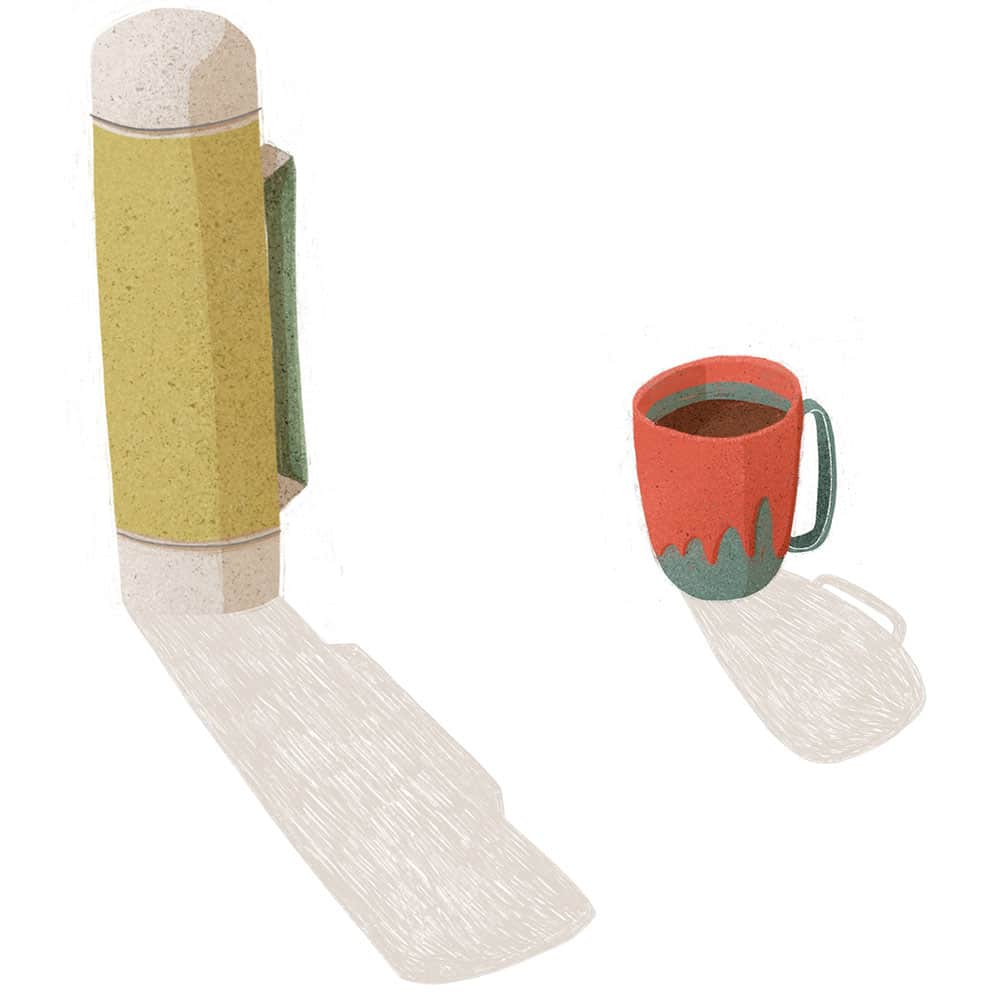 3:15 p.m. – On the way home, you pass the unpacked shop. Through increased protective measures, such as the regular disinfection of contact surfaces, you can also shop plastic-free here during the corona crisis without hesitation and in exactly the quantities you need. Karl, who only has a single household, thinks it is perfect. In addition to a few groceries, Karl uses a solid soap for showering and washing his hair. He also noticed a new household soap for beeswax wraps. He remembers the student and immediately buys a scarf to try out.
4:30 p.m. – Arriving at home, Mr. Gimmer meets him in the back yard. Mr. Gimmer brings a lot of organic waste to the bin and only has a tiny bag with some plastic waste that he is currently throwing away. Not bad, thinks Karl and resolves to speak to Mr. Gimmer soon about how he can live without the usual packaging – almost plastic-free.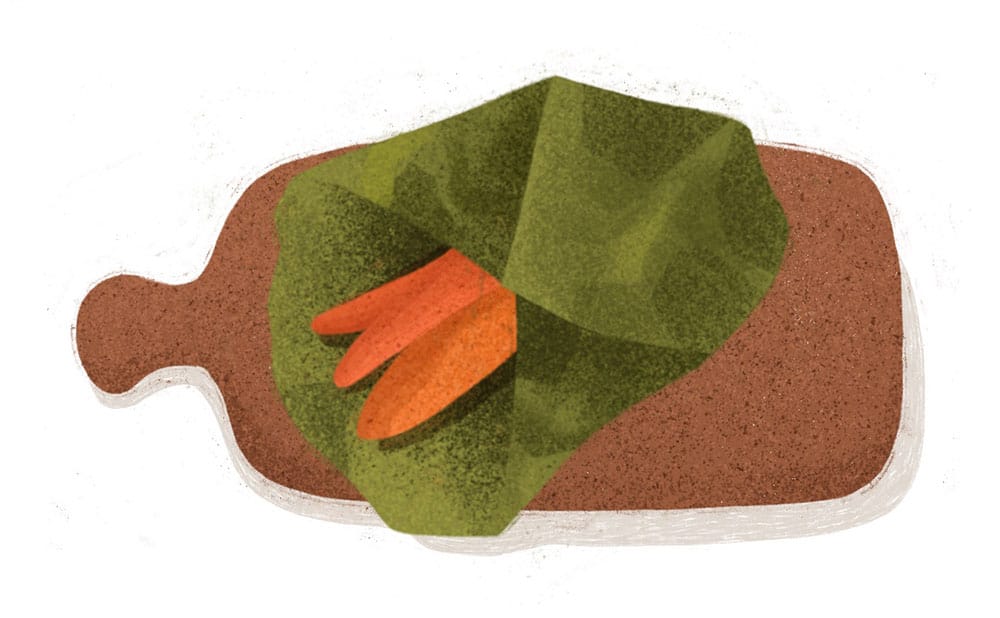 7:00 p.m. – Karl cooks pasta from the unpacked shop. He notices that he is very wasteful with the kitchen roll. It's not made of plastic itself, but its packaging is. In future, he simply wants to use a cloth to wipe it up or dry it off. He leaves a small amount of pasta in the bowl. He wants to eat it for lunch tomorrow. That would be for cover now Beeswax wrap as a practical alternative, he thinks, but he has already packed his loose carrots in it, which neither fit in his lunch box nor in a screw-top jar. Since his only beeswax wrap is already in use, Karl decides to cover the bowl with a plate. He would like to gradually replace his old plastic kitchen utensils such as mixing bowls, wooden spoons and cutting boards with plastic-free alternatives. One by one … Karl thinks to himself.
Wir können alle voneinander lernen, plastikfrei zu leben
Karl lässt den Tag Revue passieren und findet im Internet Antworten auf seine Fragen zum Thema "plastikfrei einkaufen":
The filling of reusable containers brought with you at the customer's request does not have to be refused, even during the Corona period, but should be done with particular care. In fact, containers that you have brought with you are still allowed in retail stores or when shopping in catering establishments in order to save packaging material. However, certain regulations must be complied with, which are simply too cumbersome for some companies. The German Food Association has published a leaflet on this. There is also a helpful instructional video. You can find both here:
Karl nimmt sich vor, die Verkäuferin im Bäckerladen daraufhin morgen freundlich anzusprechen "Gemeinsam gegen Verpackungsmüll" wäre doch auch eine schöne Werbung für die Bäckerei. 
2. The subject of "disposable cutlery" is a little more complicated, Karl notes. There are alternatives made of wood or bamboo, but these too have major environmental disadvantages due to the consumption of resources or transport routes. And disposable cutlery or packaging made of so-called bioplastic PLA is controversial for various reasons and does not necessarily have a better environmental balance than conventional plastic. You can find a good overview of the advantages and disadvantages of disposable cutlery made from plastic alternatives here:
www.plastikalternative.de/besteck/
So the school cafeteria is doing it right by continuing to use their stainless steel crockery and cutlery. It is durable, free from plasticizers or hardeners and 100 percent recyclable. Karl resolves to put a stainless steel fork and spoon in his backpack. He has a pocket knife with him anyway and will no longer have to rely on disposable cutlery in the future.
In Zukunft bin ich plastikfrei unterwegs, nimmt Karl sich vor. 
3. Karl thinks about whether the hygiene in the unpackaged shop can really be established. After all, he and other customers fill their goods by hand into containers they have brought with them. Karl finds a related publication by the Robert Koch Institute reassuring. It points out that "a transmission of coronaviruses via inanimate surfaces has not yet been documented." Nevertheless, many shops pay particular attention to frequent disinfection of the contact surfaces and encourage their customers to disinfect their hands at the entrance. The conclusion of Karl's research : As long as everyone adheres to the usual protective measures, shopping in the unpackaged store is just as low-risk as in any other store. Step by step, a plastic-free life is also possible in the Corona period. You can find more on the subject here:
Schritt für Schritt ist ein plastikfreies Leben auch in der Corona-Zeit möglich.
Karl has become curious and resolves to take a closer look at his everyday life tomorrow. He also wants to talk to his neighbor, Mr Gimmer, about his small amount of plastic waste. After all, we can all learn from each other. As a teacher, Karl knows that very well.