Clean and maintain beeswax wraps
You can clean light soiling by holding the beeswax wrap under cold running water. If it is very dirty, the best way to clean it is to use our natural household soap:
Use our household soap to clean
Lightly rub the dampened beeswax wrap with the soap. The soap is very economical, so it does not need large quantities to achieve excellent cleaning. If you want to foam the soap up a little more on the beeswax wrap, you can gently wipe over it with a clean sponge or wrap. Then rinse the wrap as usual under cold water.
To clean other objects, you can simply rub some soap on your sponge and then wash the object with it.
Here you can find out more about soaps and what makes our household soap so special.
If you want to use a different detergent for cleaning, you should make sure that the detergent is alcohol-free, because alcohol would loosen the coating of the beeswax wrap. When washing and drying, please do not wring or crumple! Before the next use you should let your beeswax wrap air dry or wipe it gently with a towel.
If necessary, the beeswax wrap can be cleaned with vinegar.
Instructions for caring for your beeswax wraps
Lather the wet beeswax wrap gently.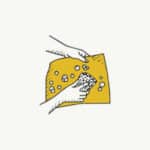 Use a clean sponge and softly rub over the stains to create a lather.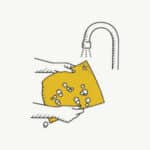 Then rinse the beeswax wrap under cold water.
How can I store my household soap?
You should always place household soap on a soap dish. A good soap dish is designed so that the soap can dry on it without floating in its own water. On the way you can either keep the household soap in a closed tin or simply wrap it in a beeswax wrap. The beeswax wrap Small is perfect for this! Before you pack it away again after use, you should make sure that the soap is dry again.
Here in our blog article you will find more information about soaps.