Bee-friendly balcony plants – our tips
This year it's supposed to be buzzing and humming in front of our kitchen window! So which bee-friendly balcony plants need to get out of the pot? And which ones make the hearts of bumblebees and butterflies beat faster?
From the insect's point of view, the greenery in parks and gardens is more like a desert landscape. With cherry laurel, rhododendrons, azaleas and thuja hedges, they find just as little food and shelter as on short-cut lawns. Every bee-friendly planted balcony or terrace full of bee pastures helps the valuable pollinators. So we go to the next nursery.
Stop. Not just any nursery. In DIY stores or conventional businesses, insect-friendly plants are also offered. However, these are usually treated with pesticides before they land on the sales table. We neither want to harvest such plants as herbs for ourselves, nor offer them to bees as fodder. So we look for the closest organic farm and finally go to the weekly market.
You can find a list from the BUND with suppliers of organic seeds here .
---
Don't buy sham packs
---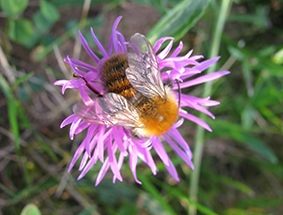 We learn there that not everything that looks good is also good for insects. The more abundant the bloom, the less the food supply for our six-legged friends is often. They tend to love the somewhat inconspicuous, the "wallflowers" so to speak.
Huge flowers and particularly bright colors usually belong to the so-called hybrid ornamental plants. These eye-catchers are created when two different varieties are crossed with each other in order to achieve the largest possible flowers, fruits or a particularly intense color. Such plants look gorgeous, but produce less or no pollen at all and are therefore veritable sham packs for insects. Double flowers are often a consequence of this type of cultivation. The stamens and sometimes the carpels are transformed into pure visual organs. Even if the plant still contains pollen, hardly any insect can get to it because the numerous petals are too close together.
We currently find double flowers in, for example, daffodils and daisies. In summer and autumn, clematis, dahlias, carnations, peonies, delphiniums, roses, sunflowers, columbines and chrysanthemums, have corresponding shapes. All of the plants just mentioned are of course also available unfilled. And only these should be bought. But shrubs such as the marshmallow, the ranunculus shrub or even trees such as the Japanese ornamental cherry are only available in filled form and therefore cannot be used for insects.
---
You hardly go wrong when you choose native wild plants.
---
They're sturdy and don't cost a lot either. You don't have to beddel them or fertilize them. They don't need frost protection and if they dry up during a drought, they are guaranteed to have scattered their seeds. In addition, many regional wild bee species have specialized in just one forage plant and need exactly this to survive. One more reason to forego exotic plants.
For sunny locations are for example:
Dyer's chamomile, Karthauser carnation, cypress wolves milk, blood cranesbill, St. John's wort, white stonecrop
For partially shaded locations suitable:
Meadow knapweed, large-flowered speedwell, orange-red hawkweed, small ordermenning, yarrow, fragrant violets
For shady locations are suitable:
Lady's mantle, wild strawberry, small brown elk, red carnation, cymbal herb, Roberts cranesbill
---
Let the herbs bloom!
---
Kitchen herbs are also usually a perfect pasture for bees: peppermint, lemon balm, sage, marjoram, lavender, savory, thyme, chives – the range on the market is huge. We choose ten different herbs for our bee-friendly window boxes, including perennial shrubs such as thyme, oregano, sage and peppermint. Also a few annual herbs like basil, dill and coriander. The saleswoman advises us not to mix annuals with perennials when planting. They thrive better if left to themselves and are therefore put in different boxes. And something else is important: Those who plant herbs for bee pasture are not allowed to harvest everything! The bees only benefit when the bee-friendly balcony plants bloom. So we decide not to eat all the herbs ourselves and to leave some of them as bee pasture.
You can find more tips about bee-friendly balcony plants on, for example www.bienenretter.de/hilf-den-bienen/dein- Einsatzort/ , on a flyer from the Bavarian State Institute for Viticulture and Horticulture, which you can download here www.lwg.bayern.de/mam/cms06/bienen/daten/blumenkasten.pdf and at the BUND www.bund-naturschutz.de/landwirtschaft/garten.html
---
Bee-friendly balcony plants bloom for a long time and have a lot of nectar and / or pollen
---
There is still space for buckets and pots on our balcony. We also want to plant these in an insect-friendly way. Since native wild perennials are best adapted to the needs of the local insect world, we first decide on a robust, hardy one Sedum plant . It tolerates both drought and rainy summers and blooms from June to September. Also still land Lungwort , Sun eye, blood currant and the Ordinary adder head in the shopping basket. The first thing to do is to open the flowers of the currant, probably from April to May. From June sun-eye, sedum plant and adder's head bloom until late autumn. The lungwort is intended for a more shady spot. It blooms as early as March and April.
So that bees, bumblebees, butterflies or beetles have something to feed from April to October, you should choose plants that bloom staggered in time . Therefore, here are a few exemplary food plants for insects according to the seasons:
spring
The first early bloomers are mainly bulbous plants that are planted in autumn:

Snowdrops, Märzenbecher, crocus, winterling, wild tulip, grape hyacinth

Then come for example
Bleeding heart, lungwort, forget-me-not, columbine, ball leek, dead nettle
summer
The blooming continues with
Monkshood, scented nettle, nasturtium, adder's head, sunflower, sun bride
autumn
Many plants bloom well into autumn, others are just starting to bloom, for example
Beard flower, fat hen, autumn aster, girl's eye, sun hat, unfilled dahlias

---
Let bee-friendly balcony plants grow
---
Gardening in a bee-friendly way means letting it grow. In front of our balcony is a back yard with a fallow area. The beds and meadows there have been more or less left to their own devices for years – ideal for the local flora and fauna. "In a bee-friendly garden, around half of the plants come from your own stock if you simply let the plants grow and bloom." Beekeeper Sonja Guber from Marburg made this experience. The archaeologist with a doctorate and lecturer at the State Association of Hessian Beekeepers, advocates not necessarily buying new plants. Much more important is not to constantly mow or mulch the lawn. "Then it doesn't take long before much more than just grass grows. But a gardener's heart has to learn to endure that first. Clover and dandelion will soon sprout and both are excellent bee pastures, "Sonja knows.
Occasionally snowdrops, crocuses and mugs open their flowers on the meadow in front of our balcony. We plan to buy more bulbs and bulbs this fall and put them in the ground in good time. Onion plants that "grow wild", such as blue anemones, elven crocuses, winter lumps, wild tulips and wild daffodils, are particularly sustainable. They can stay in the same location for years and multiply by themselves using bulbs or seeds. How nice it would be to look from our balcony on a carpet full of pollen filling stations for bees, bumblebees & Co. in the coming years!
You can find a list of bee-friendly bulb and bulbous plants here .
You can find more information about our manufactory here .
Photos: © Sonja Guber