Simply brilliant. What is good design?
Recently we have had many discussions internally on the subject: What is good design? In addition to our beeswax wraps, we now have other products for a sustainable and natural way of life. The design plays a major role here, because it conveys our philosophy of "less stuff and more soul".
For me personally, the knowledge of good design is also a way out of the consumption spiral, helps against the fifth scented candle and the third pair of flip-flops. "What do I really need?" and "What is good design?" – if you can answer these two questions for yourself, you are safe from junk. Not only is the budget decreasing, the entire attitude towards life is also becoming easier. That is why good design is important for a good life.
---
Everything that does not serve the function is basically superfluous.
When Marie and Markus chose fabrics for their beeswax wraps, I expected patterns. Instead, the towels were simply plain. Toff & Zürpel means "beautiful creases" and that should become the program. Signs of wear, i.e. folds and creases that form an individual pattern over time instead of cute bees, flowers or stripes.
However, this is not for everyone. I know that some customers love our quality, but regularly iron the cloths between two sheets of baking paper so that they look "nice and smooth" and "like new" again. It always makes me smile a little, because things change, that's life. There is nothing perfect in nature! Everything is subject to constant change. This is also part of our design philosophy. Anyone who understands the perfect as an ideal must inevitably fail and make life difficult for themselves.
M & M: We think good design should be as simple as possible. A piece is perfect when nothing can be left out.
---
Design determines how something works.
Good design solves problems. That's why our soap dish has neither holes that get clogged with soap residue nor grooves that are difficult to clean. The ceramic is unglazed, it gives the wet soap hold. Thanks to the slanted side surfaces, it can dry quickly instead of dissolving in the dripping water. The channel inclines to one side, so the water runs off directly into the sink.
M & M: With every object that we design, we take up existing problems and offer the simplest possible solutions, something that has not existed in this form before. In addition to the simple design and the optimized function, this always gives our products something special.
---
Good design is a love of detail
Every little thing is thoroughly thought through. Just like with our grass paper packaging for the beeswax wraps . Grass paper is much more environmentally friendly than paper made from wood. Nevertheless, the customer should not just throw away the packaging, but be able to continue using it. The flap therefore has a hole for hanging. The postcard on the inside can be removed and replaced with your own photo or card. You can store the beeswax wraps in the packaging or other things like recipe cards, photos and much more. Each packaging is sealed by us individually and by hand, so each seal is unique. The sealing wax is carefully manufactured for us according to old tradition in Germany – and from purely natural raw materials!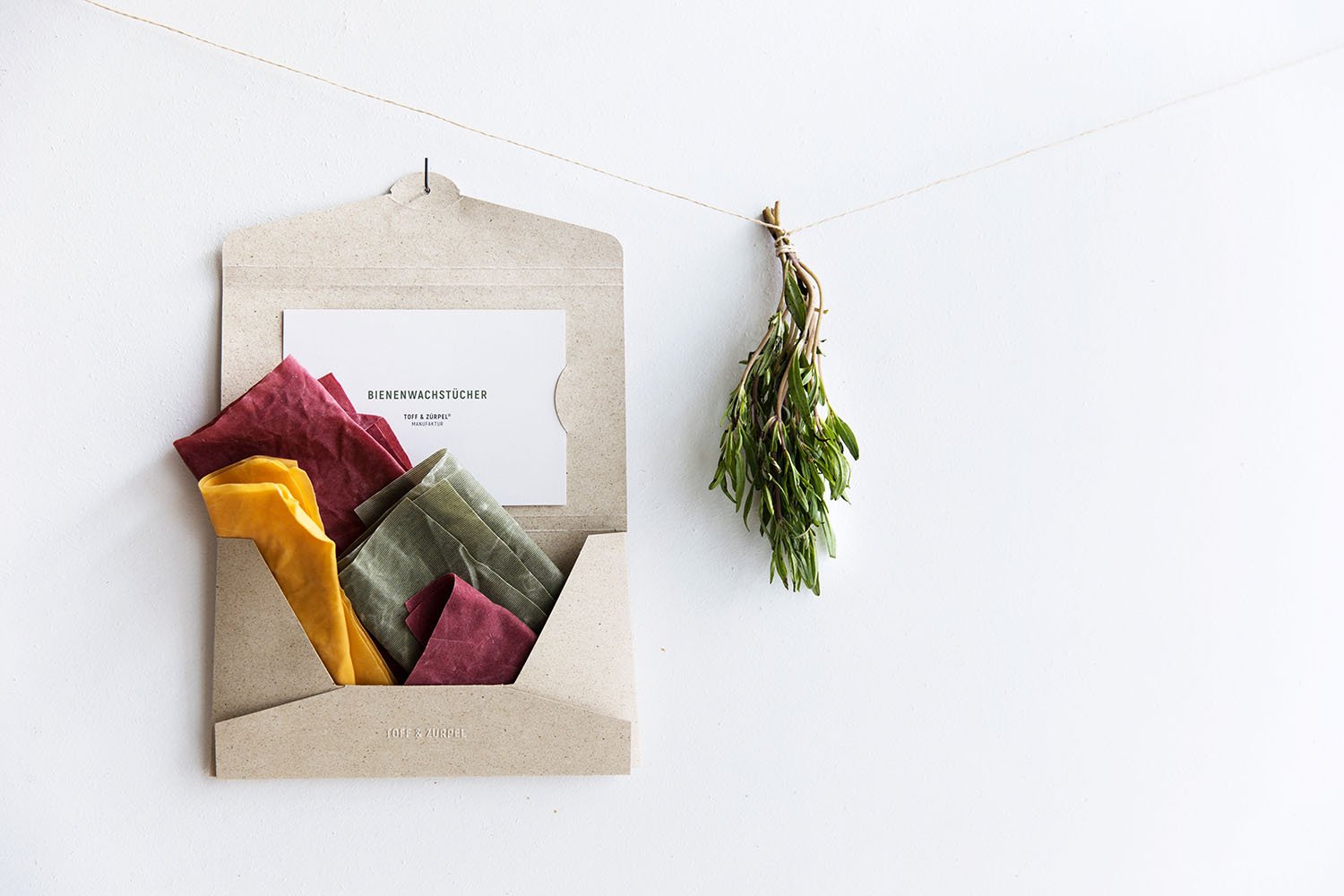 M & M: Simplicity and attention to detail characterize us.
---
Good design is durable.
That's why our beeswax wraps have an extra thick coating. You can also wax them yourself with our DIY repair wax made from beeswax, pine resin and coconut oil. And of course good design is sustainable! Because we respect, care for and appreciate the things that we like and that are practical. Such things do not end up in the trash after a short time. They will also be repaired or refreshed if necessary.
Our Charity Edition is particularly sustainable, i.e. has a long-lasting effect. These are limited-edition beeswax wraps with unusual motifs by selected artists, which are presented in every packaging and thus supported. For every charity beeswax cloth sold, we also donate 2 euros to a charitable project that is personally selected by the artists. 1000 euros can be donated per motif.
M & M: It's about less stuff and more soul, about a simple and natural way of life, about a soulful simplicity that creates a feeling of happy frugality.
---
Good design is innovative
The wood from which our soap holder is made is treated with vinegar acid and is therefore waterproof. It can be disassembled and thus easily cleaned.
I am always very happy when I meet colleagues at trade fairs who are pursuing a similar concept. Together you simply move more! I recently discovered such an example of innovative, sustainable design at the unique trade fair in Eberbach Abbey: Razor-sharp kitchen knives with handles made from old skateboards, the carbon steel blades come from former saw blades and truck leaf springs. Jonathan Loose from the Brettschmiede company had the idea of recycling the old skateboards. He gets the blades from the guys from BlackChili Messer in Berlin. I'm incredibly excited to now have two of these sharp bits in my kitchen.
---
Less but better!
"We have to get away from the unculture of excess, waste, cheapness in the literal sense, but also in a figurative sense," wrote the industrial designer Dieter Rams in May of this year, shortly before his 90th birthday. These words make my heart soar As early as the 1970s, he advocated designing things in such a way that they last as long as possible: "Less, but better" is his motto, which I have also made my own.
The motto "less, but better" frees and relaxes. Because letting go of things that we don't need or that burden us goes hand in hand with letting go of mental issues that clutter our minds. Without all the junk, we feel lighter and clearer in our heads. Good design makes us aware of these connections. Surrounding yourself with carefully designed things – and putting aside all the other junk – ultimately leads to adopting a different attitude and showing respect and appreciation for yourself and those around you.
---
Good design can change everything.
M & M: The best of the simple. According to this motto, we design simple, beautiful and functional things for an environmentally conscious everyday life, for the kitchen, bathroom and on the go.
Three things I currently like:
tillandsia. Have you heard it? These are perch or so-called air plants. They only form adhesive roots, do not need soil, but take their nutrients exclusively from the air. I discovered it at the HandemadeArt in Rothenburg. Imported from far away, I know, but fascinating.

The books by Susanne Abel: "Stay away from Gretchen" and "What I never said" are well told. It is about difficult topics such as dementia, flight, racism and war. I understand many things better now.

Rhenish potato salad like my mother made it. We're currently eating in a loop. Please contact me for prescription requests.